A New Year's Catchup
So…admittedly, that consistency practice I mentioned in my last post didn't exactly go to plan. 😄
Tonight is New Year's Eve, which means it's been a whole 4 months since I added to the blog.
To say that my life during that time has been crazy busy and filled with some downright chaotic moments would be the understatement of the year. I started my second year of university in Sheffield, finally in person - met so many new people, made friends, joined university projects, and spent time with the ones I loved. Learning, laughing, and coming back a better person. Now that I'm at home again with family, I felt it was a great time to share what life's been like for me since I last wrote, and wrap up for 2021, before I look forward to what the new year will bring.
The need to upload was nagging at me since my last post, but I felt I could never find the motivation to continue along with my work and commitments. Not until someone mentioned the blog to me in conversation one day, and let me know how much they valued it (sometimes it only takes a little push). So thanks to that special person, I'm back at it again.
This piece will mostly be a summary of what I did at university over my time away from the blog - the experiences, and the lessons I learnt. A boiled down version of my life, in 4 months, and the value I got from it - starting from September: getting ready for the return.
September
Apart from a couple of labs in 1st year, September was the first time I went onto campus to study since my A Levels, in 2019 - more than 2 years ago. When times were simpler, and lockdown hadn't become a trigger word yet. So when 2nd year rolled around and it was time to pack for the drive to Sheffield again, it felt like a fresh start.
I remember being with some friends on campus one day, talking to a university volunteer during our intro week and explaining how we were all 2nd years. They made a point of calling us 'COVID freshers' and the name stuck - I got used to referring to myself as one whenever someone asked.
Now obviously, spending an academic year with the majority of your uni life being filtered through a 14 inch screen, it's understandable that a lot of us weren't too pleased with the situation. Lectures got substituted for YouTube videos, and online calls made group activities difficult to say the least (that is, assuming cameras were turned on and mics were unmuted). Still, we pushed forward, hoping second year would be different. And it was. Having the luxury to come back to in-person lectures was a welcome relief: finally getting to see more than just full names, profile pictures and text on a screen.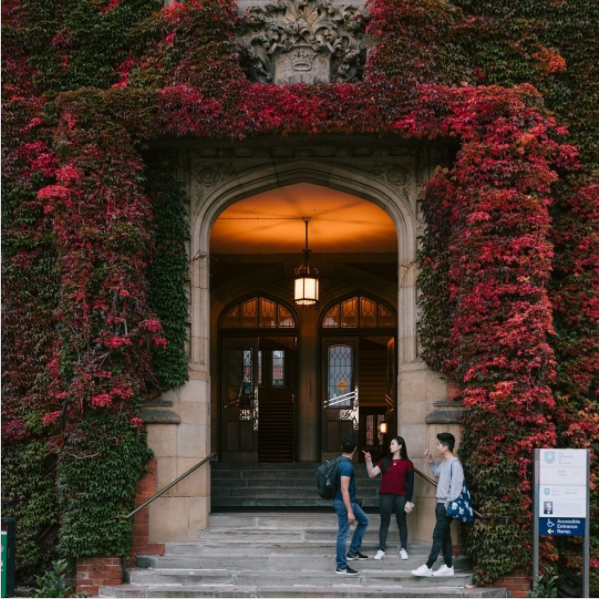 Taking the time to set up my room, see flatmates and have those much needed catch-ups with friends after the summer break was massively helpful for adjusting to university life again. Moving back to a new city and out of the house, it felt like I got another chance to reinvent myself - restarting the habits that I'd left unattended for a while, or that I wanted to continue working towards. I started cooking from scratch again, journaling and writing down my thoughts each day (one thing I'm really grateful for, and not just because it helps with writing these sorts of review posts).
When the first day of second year came, I finally got the chance to meet all the people whose names hadn't been put to faces yet - we got divided into our chosen aerospace streams - Avionics, in my case, and introduced to all our new modules. As a small class of around 20 people, the learning experience felt a lot more like a school setting, which was something  we started to appreciate as time went on - with our lecturer focusing on us individually, we got a lot more use out of sessions than in a lecture hall of 100+ people.
I think more than anything, it was nice to see new faces again - to get to know people again in person, and make those relationships that people say you cherish when you leave university. Lockdown restrictions eased up a bit, and I had the chance to start enjoying the better aspects of student life with friends and flatmates; whether it was going out for crazy golf, or karaoke, or some other random plan, and just having fun. Sure, there was a bit of revision to do before we came back to study, and maybe I could have done more, but - that felt a lot more like an October problem.
October
From October, we really started getting into the heart of the course. 9am lectures and regular tutorial sessions gave the days a lot more regularity and structure (not that any of us loved waking up so early). The routine became - get up, go to lectures, take a break in between to study/hang out with friends (if you're studying in Sheffield, the Heartspace is a great place for this) then back to lectures and tutorials before we finished for the day. Meetings for student projects got squeezed into the time between, and along with making room for lunch, the reward of coming back home everyday felt earned.
Not to mention the fact that the course started getting more interesting as well - from the nerdy engineering side of things, one of our modules started us off with learning the basics of coding in C - in another, we began looking at basic signal processing, and in our electrics module, our lecturer's way of teaching content was so unique that we were all hooked from the start. Sometimes you get those teachers that can make teaching anything fun to learn as long as you're learning it from them. They could be going over the most boring topic, but the way they teach it just makes it worth it to listen, if only to laugh at how they deliver it, and end up absorbing a decent amount of the content along the way.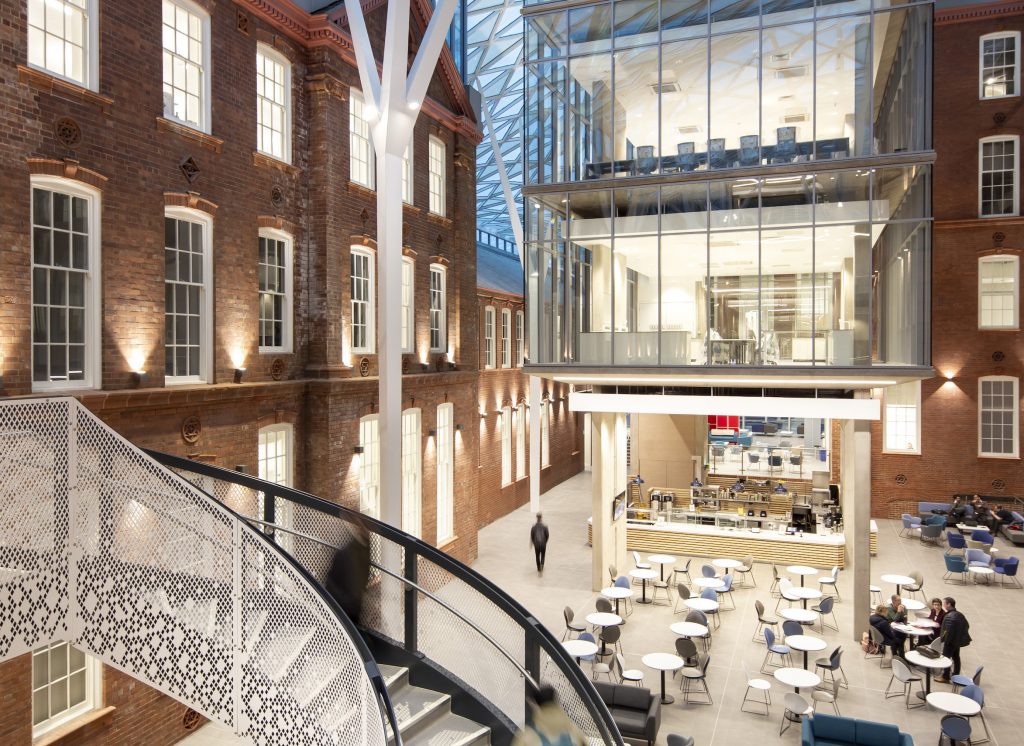 October was also a great time to start thinking about the societies I'd want to join this year, and the engineering projects I was continuing to work on - I decided to give dodgeball and badminton a go, both of which were really fun to get back into - and on top of a few other applications, my work with the university rocketry team, SunrIde, continued.
Out of all the engineering projects that the university offered when I joined in first year, SunrIde was easily the coolest one. A rocketry team already famous for breaking records in national competitions, both in the UK and America, the society was continuing to gain traction when I signed up.
Lockdown hit us hard, but along with setting up online training sessions to help students learn while at home, the executive board formed a new branch of the project, to work on developing its own model rocket for entry into a new national competition: the UKSEDS Orbex National Rocketry Championship. In 2020, I was a part of that team. And to sum up all the effort we put in throughout the year - the organisers got back to us a few weeks later to confirm that we'd come first place for our launch!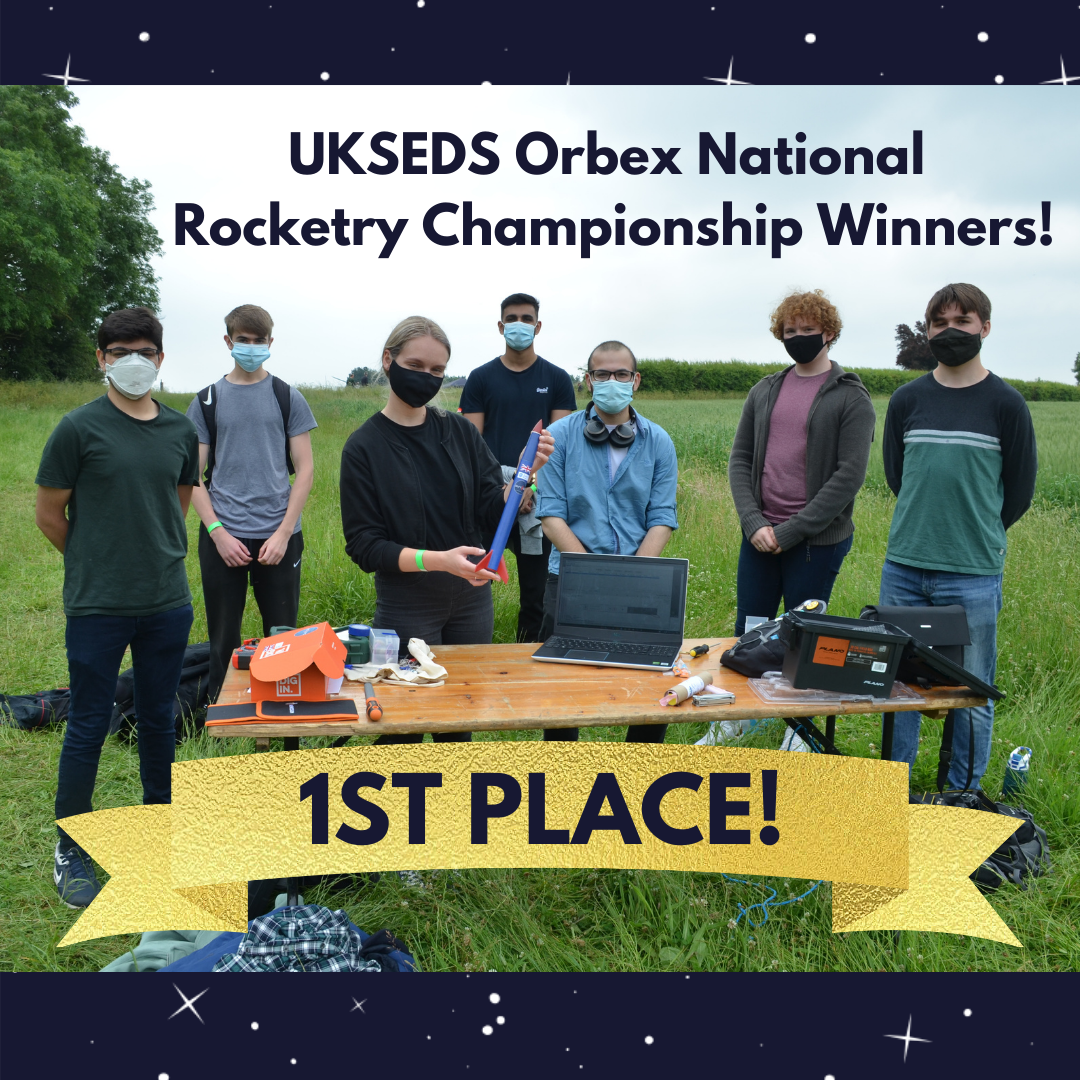 Being a part of that smaller team, a lot of my early work was based around keeping track of our progress through weekly meetings, and spreading the word about the project on social media - so when it came time for the society to restructure this year, I became the best fit to take up the role of Media Officer, in charge of all the social media, promotion and marketing. With the influx of members, and the return to in person meetings, it was amazing to see so many people interested in collaborating to do something as cool as this.
If you're interested to see what the project's about, I've linked some socials below - I'll be uploading on there in the new year, as our progress continues:
It's been a blast to work with these guys (no pun intended) and I intend to write more about them another time - including how my role is developing, and what we're hoping to achieve, trying to become the first student team to reach space. In the meantime, my projects continued, and the semester went on.
November
November brought the beginning of a couple of other new engineering projects I'd be taking part in for the year: Project Kestrel, a subdivision of Engineers Without Borders, which aims to compete in the African Drone Forum's Lake Kivu Challenge in Rwanda, as well as Project MarsWorks, who hope to develop a functioning Mars rover for the European Rover Challenge.
When I applied for these projects, I initially did it out of curiosity  - it seemed like it would be another cool project to spend time on, and a way to develop some skills in the free time that I had left (funnily enough, I soon figured out I didn't actually have that much free time left). But as I passed through the interview stage and was introduced to the projects and the work involved, I saw my responsibilities evolve - with some senior students having to leave due to their own academic commitments, it was a chance for me to practice leadership in Kestrel's Avionics team, as the Avionics team lead.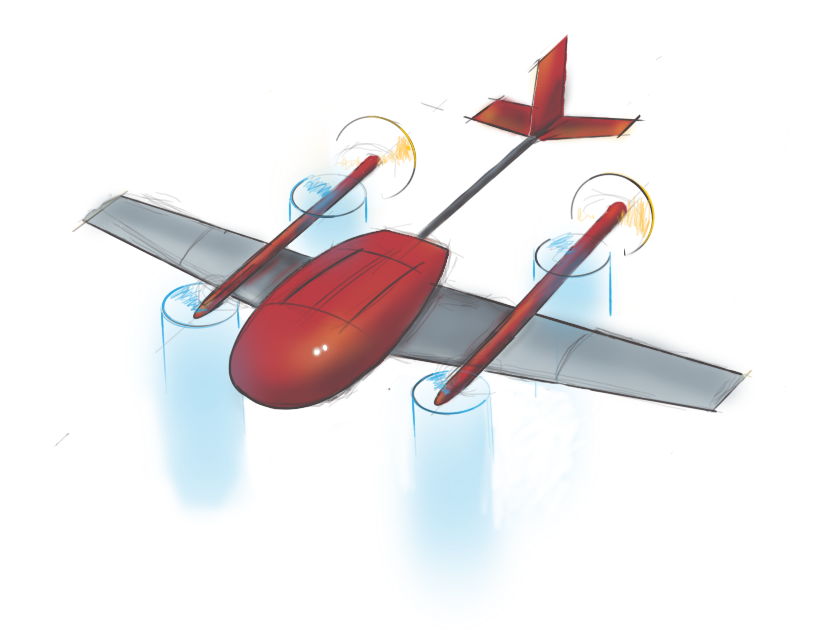 Between the flight control, electrical and image recognition subteams, it was my responsibility to coordinate work and understand what to prioritise at each stage of the project. How the avionics would be set up on the drone and what components it would involve was something completely new to me, but it was a rewarding challenge to work through, and I'm looking forward to what we can achieve in 2022. With a basic prototype of the drone already built, and final designs coming along, it's exciting to see where the project will take us.
You can find out more about Project Kestrel through our socials, which I'll link here again:
For MarsWorks, my position on the Fundraising team was a nice change from the defined roles that most student projects set out. Supervised by the society's project lead, myself and a couple of other first and second years were tasked with developing an entirely new design of the rover from scratch, on a smaller scale, to take into schools for educational purposes and use as a way to fundraise by holding workshop sessions.
With a limited budget, a lot of our initial tasks focused on research for how we could design something like this, and it was a fun exercise to consider what exactly would need to be prioritised at each stage of the project. With my role in the software development of the rover, there wasn't a massive amount to work on to begin with, since the design hadn't actually been finalised, so I switched gears to focus on how it could potentially be run, as well as helping organise the layout of the school activity that we'd introduce students to.
Likewise, if you're interested in what MarsWorks are doing, socials are below!
Both of these projects gave me another opportunity to take an active role in solving these sorts of complex, unfamiliar engineering problems, and I think as much as it felt like a struggle to push through, it was rewarding just to work on it with other students for the fun of it and see what we'd end up with.
December
As the first semester began to wrap up, it was sad to see that COVID cases continued to rise, and another lockdown seemed like it was on the table. With the university having to stop most in person sessions for the last week or so, urging students to stay home and isolate, it wasn't the end that most of us would've liked. For myself, missing the aerospace society's winter ball because of a COVID scare was the biggest heartbreak, as something that I'd seen friends on the committee organising for the last few weeks.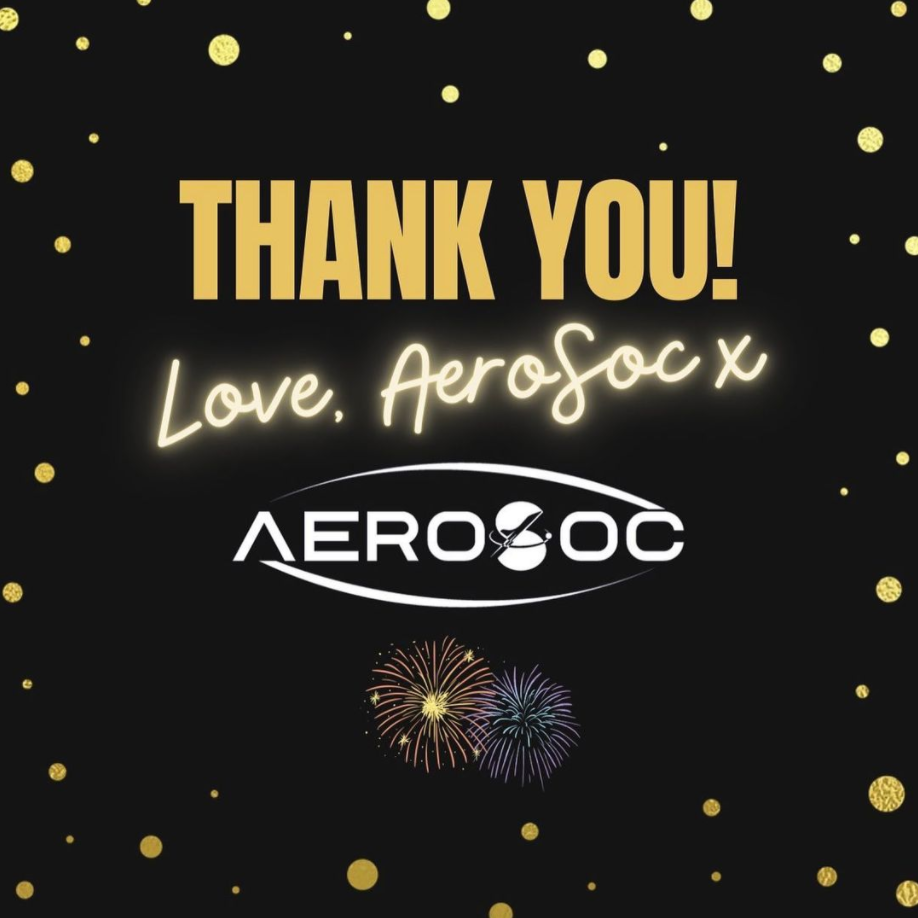 Going back to self isolation this far into the year, it almost felt like nothing had really changed. I guess that's why it's important to do things like these - to understand just how much progress you've really made in hindsight, and acknowledge that it's all just a series of highs and lows. Isolation gave me the time I needed to slow down and think about what mattered to me. Writing this blog, for one.
The month did have it's bright sides - I was accepted for my first job with the university, working as a digital learning associate to improve the online services that the uni offered - something which I realised the importance of last year, having to depend on it to pass my first year exams. With everything that I've had the opportunity to work on this semester, I'm certain one of the biggest things to focus on for next year will be time management.
As the year wraps up, I think it's nice to be able to do these reviews of what I accomplished each month - might be something I consider doing in the future as a summary post for 2022.
So, what's next?
Looking ahead to the new year, it's back to goal setting and reviewing the progress I've achieved. The blog will be back, as I focus more on my plans for this year, and give you more of an insight into aerospace, and life at university.
As I finish writing this, it's 5 minutes to 12 - so I suppose there's nothing else to say but happy new year, and best wishes for 2022!
---
On the off chance that you've read something on here and loved it, or want to read more, feel free to shoot me a message on my socials:
Instagram:
Twitter:
Facebook:
The feedback helps massively. Thanks!